This is a huge shout out to those who have served past and present for this great country. For those who knew that freedom always comes at a price. Those that pledged all, even the most costly price of all, their life. I am a veteran. This day has huge meaning for me for several reasons. I think everyone should have to serve at least 2 years for this country in some capacity whether it's in the military or helping inner city kids or in rural areas, whatever. You'll never truly understand freedom or the cost of it until it involves your own life. I thought I would share some pictures of my military life.
These are the barracks that I lived in for 2 1/2 years. State of the art don't you think?
The supply room where I worked and my supply sergeant and my comrade in arms, Eric Hatfield. I hope you're all having a wonderful day today no matter where you are. I still think of all of you often.
My bestfriend and cohort in basic training - Tammy Bator
Yep one of those girls is me. Can you figure out which one?
My granny and I on my first trip home after basic and AIT. She was so happy to see me. I love you Granny and miss you terribly still.
My uncles - two of whom served this country. Obviously my Uncle Terry in uniform and my Uncle Jimmy on the right. Love you both and miss you too.
Of course my favorite military man the one I married. You see I had to go all the way to Virginia to meet a California military man. He wore his Class B uniform for our wedding. Love you honey just as much as I did on this day if not more.
I am so glad that there are those who put country first and self second to secure for us the freedoms we enjoy to this day. Freedom is never free. Happy Veteran's Day.
Today is also my mother's birthday. She would have been 59 today. I love you Momma. Miss you still. I know you're not in pain anymore.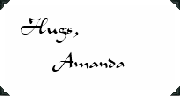 P.S. I'm the girl on the far left in that picture.